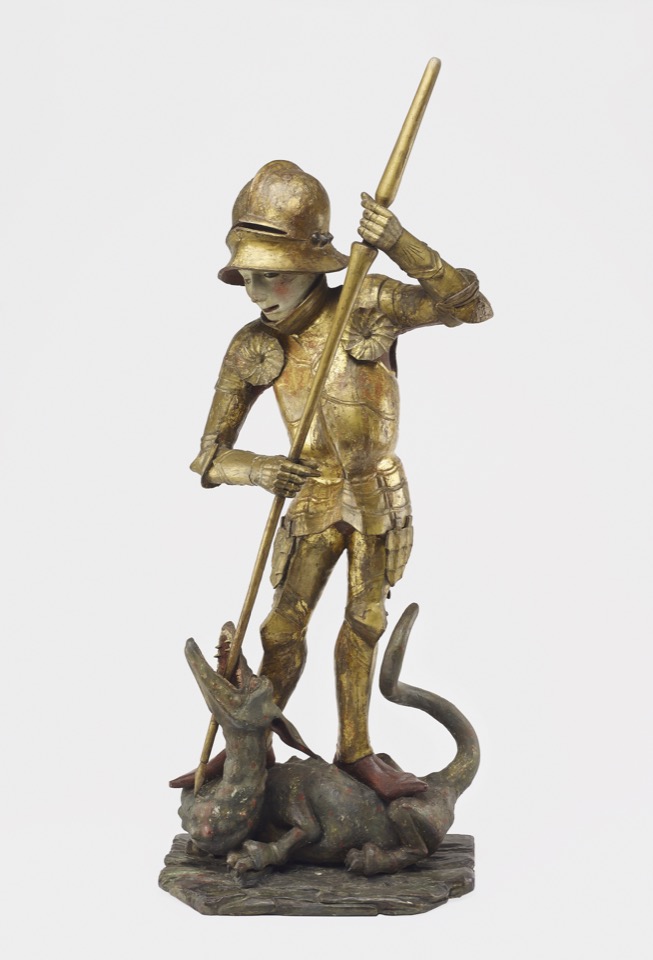 Warrior saints were often placed on either side of altar pieces as 'shrine guardians' in late medieval churches in southern Germany. Baron Ferdinand acquired this statue from the sale of the dealer Frédéric Spitzer in 1893. The painted surface, the spear and the left hand were probably restored by Spitzer in answer to demand for this kind of sculpture.
Curator's Description
Statuette of St George piercing the dragon; wood; painted in natural colours and gilt; saint standing on dragon, wears helmet and is completely armed.
This object was previously owned by Frédéric Spitzer, and collected and bequeathed to the British Museum by Ferdinand Anselm Rothschild.
How big is it?
42.5 cm wide, 1.1m high, 24 cm deep, and it weighs 8.8 kg
Detailed Curatorial Notes
Provenance: None is recorded.
Commentary: The restored polychrome St George figure was probably carved in Southern Germany towards the end of the fifteenth century when a particularly soft mannered style continued to characterise much of the sculpture emanating from those workshops.
The back of the sculpture has been cut down along its length. The cut is quite rough, with chisel / tool marks clearly apparent. This might be an indication that this figure was initially part of a larger group, from which it was separated to be displayed on its own. It might also have been initially designed to be displayed hanging on a wall, and later fixed on a base to be shown standing instead. The presence of a hook screwed on the back of the figure between its shoulders, although quite recent, indicates that the sculpture may have been hanged at some point. In both scenarios, the board at the base and the jutting elements of the side of the knees would be later additions. The cut on the back, if not original, does not appear to be modern. The presence of an old hand-made nail on the back of the figure, as well as a split in the wood on the back of its proper left shoulder (which might have occurred when the back of the sculpture was chopped down) which was mended with wood dowels, corraborate this idea.
A similar sculpture appeared in the sale of the collection of Professor Dr. Otto Seyffer, 10th July 1890, lot 217.
Bibliography
'Catalogue . . . de la . . . Collection Spitzer', Paris, 17 April - 16 June 1893, lot 744
Charles Hercules Read, 'The Waddesdon Bequest: Catalogue of the Works of Art bequeathed to the British Museum by Baron Ferdinand Rothschild, M.P., 1898', London, 1902, no. 259, pl. LIII
O.M. Dalton, 'The Waddesdon Bequest', 2nd edn (rev), British Museum, London, 1927, no.259, pl. XVIII
H. Tait, 'The Waddesdon Bequest', BM London 1981, p.23.

References
Read 1902: Read, Charles Hercules, The Waddesdon Bequest. Catalogue of the Works of Art Bequeathed to the British Museum by Baron Ferdinand Rothschild, M.P., 1898, London, BMP, 1902
Dalton 1927: Dalton, Ormonde Maddock, The Waddesdon Bequest : jewels, plate, and other works of art bequeathed by Baron Ferdinand Rothschild., London, BMP, 1927