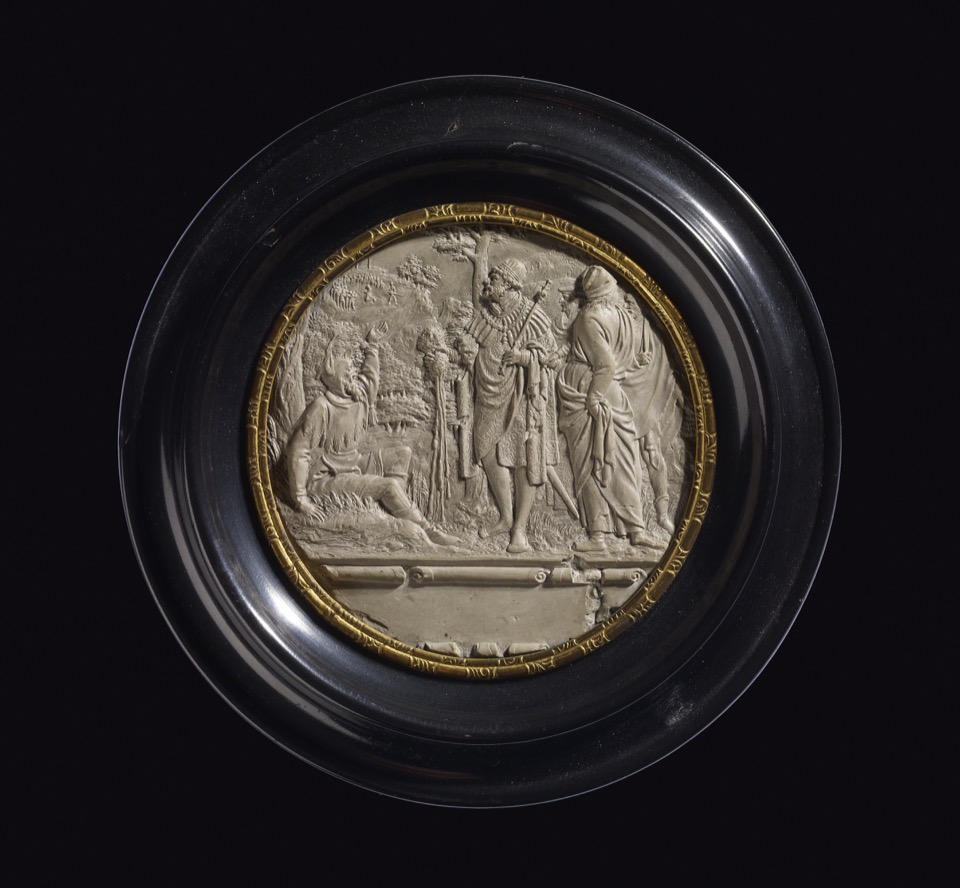 A king squeezes a dripping sponge, watched by three richly dressed men. A jester points to a hill, where a man is about to be executed. The scene is an allegory of bad government from a famous Renaissance emblem book by Andrea Alciati. A bad king allows thieves to grow rich, then sends them to their death, and then to his own advantage, squeezes their riches like a sponge. Flötner was a versatile artist and designer of great influence. This unfinished model for a small emblematic relief is one of his most exquisite works.
Curator's Description
Circular medallion; model for a plaquette, hone-stone; carved in relief with an Allegory of Bad Government. In the foreground, a standing king holding sponge in right hand, from which liquid is falling; three courtiers behind, jester seated in front pointing in distance to where a man is about to be beheaded.
This object was collected by Anselm von Rothschild and bequeathed to the British Museum by Ferdinand Anselm Rothschild.
How big is it?
10.2 cm wide, 11.1 cm high, 1.3 cm deep, and it weighs 60g
Detailed Curatorial Notes
Provenance: Baron Anselm von Rothschild, Vienna, by 1866 (cat no. 353).
The mysterious scene is derived from Andrea Alciati's famous emblem book, first printed in 1536, in which it represents bad government and is accompanied by a Latin inscription explaining how a bad king encourages thieves to prosper in his kingdom, then squeezes them dry to his own advantage and has them executed. The Latin moral is QUOD NON CAPIT CHRISTUS, RAPIT FISCUS ["what Christ does not receive the exchequer seizes". The Latin inscription under Alciati's wooduct of the King squeezing the sponge with an execution in the background translates; "The dripping sponges which he had previously filled with moisture the tight hand of a greedy prince is wringing out. he advances thieves to the top and then puts pressure on them, so that he may divert to his own treasury their ill-gotten gains." The emblem is derived from Suetonius, Life of the Emperor Vespasian. For text and woodcut see online FRENCH ELMBLEMS AT GLASGOW, Alciato, Andrea; Emblemata, Paris 1584.
The artist has added the beheading, the jester and a superbly-detailed landscape. This is problaby a model for a plaquette, unfinished as it lacks inscription. There is no doubt about the artist's identity, compare drawings and other plaquette models by him in Dienst's book.
Commentary: From Tait 1981:- 'The majority of these carvings are German, but one extraordinary piece, however, is quite outstanding, for it is carved in relief with an allegorical scene - not a portrait; because of its quality and style, it has been attributed to Peter Flötner. It depicts a king standing in the centre while from his right hand, in which he holds a sponge, a liquid drips to the ground; behind him are three courtiers, while in front a seated jester points to a distant hill where a man is about to be executed. The subject, together with a woodcut illustration, appeared in a book published in Paris in 1534 entitled 'Emblematum flumen abundans'. This intriguing and sensitively carved relief reveals a strong Italian influence and dates from long after Flötner's Italian journey in 1520-2. Peter Flötner was one of those gifted artists of the Renaissance who so excelled in a number of fields - sculptor, stone-cutter, medallist, engraver, goldsmith, cabinet-maker, even architect. Born in Switzerland about 1485, Flötner worked mainly in Augsburg and Berne until after his return from Italy when he settled in Nuremberg, where he died in 1546. Although later versions in lead are known, the original, which was probably case in a precious metal or bronze, is not recorded; indeed, this honestone relief may be an unfinished model, for it lacks the inscription beneath the scene.'
There is an identical medal in lead in the V&A (reg. no. 106-1867) where the subject is described as 'an allegory of bad government'.
A similar medal by Flötner, also with a composition inspired by 'Emblematum flumen abundans' is in the Met Museum (accession no. 54.84).
Bibliography
Charles Hercules Read, 'The Waddesdon Bequest: Catalogue of the Works of Art bequeathed to the British Museum by Baron Ferdinand Rothschild, M.P., 1898', London, 1902, no. 252
O.M. Dalton, 'The Waddesdon Bequest', 2nd edn (rev), British Museum, London, 1927, no.252, Barbara Dienst, 'Der Kosmos des Peter Flotner', Munich, 2002, p.249, fig. 124.

References
Read 1902: Read, Charles Hercules, The Waddesdon Bequest. Catalogue of the Works of Art Bequeathed to the British Museum by Baron Ferdinand Rothschild, M.P., 1898, London, BMP, 1902
Dalton 1927: Dalton, Ormonde Maddock, The Waddesdon Bequest : jewels, plate, and other works of art bequeathed by Baron Ferdinand Rothschild., London, BMP, 1927