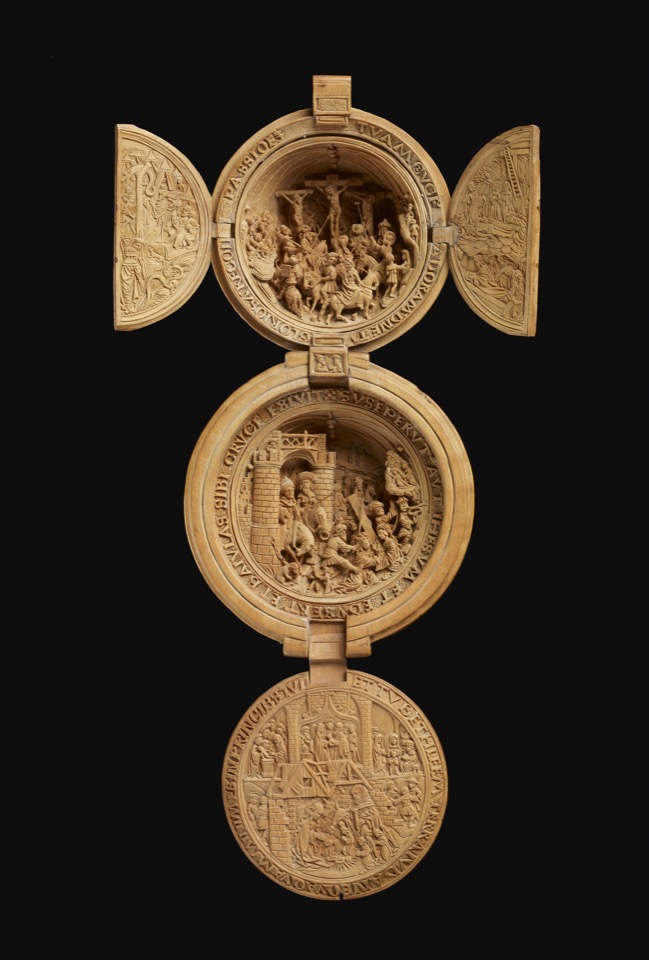 The prayer nut opens out in layers in the hand. Doors open in the top half to reveal a crowded Crucifixion scene, alive with detail. The lower half is protected by a flap carved with the Nativity. The flap opens to reveal Christ carrying the Cross. The ring on the case allows the prayer nut to be worn around the neck or on a belt as an aid to prayer and as a luxury accessory.
Curator's Description
Rosary bead or prayer-nut, boxwood; carved; opening in two halves, upper one closed by two doors. On the outside of the doors, the Virgin in the Temple (left), Marriage of the Virgin (right); inside the same doors, Moses and the Brazen Serpent (left) and the Deposition (right). Inside the upper half of the nut, in deep and delicate relief, the Crucifixion beneath a vaulted roof, staged on several levels. The lower half of the prayer-nut is shut with one hinged flap which telescopes open, and is carved on both sides: on the front, The Annunciation with the words spoken by the Virgin and by Gabriel within the scene as scrolls; on the other side, The Nativity, with smaller scenes of the Circumcision, Presentation in the Temple and Christ among the doctors. Inside the lower half of the prayer-nut, carved in deep relief is the Bearing of the Cross. On the outside of both halves, Gothic tracery and flower-heads; suspension ring; inscribed.
This object was collected and bequeathed to the British Museum by Ferdinand Anselm Rothschild.
How big is it?
9.4 cm wide, 13.2 cm high, 4.8 cm deep, and it weighs 55g
Detailed Curatorial Notes
Provenance: None is recorded.
Commentary: This is the most elaborate of the prayer-nuts in the Bequest, which can be compared with one in the Metropolitan Museum of Art which has two opening doors in upper half, but is nothing like as well carved (inv. no. 17.190.475).
The similarities in the Bearing of the Cross scene on this nut (WB.236) and the one on another in the Waddesdon Bequest (WB.235) suggests they may have been made in the same workshop.
Bibliography
Charles Hercules Read, 'The Waddesdon Bequest: Catalogue of the Works of Art bequeathed to the British Museum by Baron Ferdinand Rothschild, M.P., 1898', London, 1902, no. 236, pl.XLVIII
O.M. Dalton, 'The Waddesdon Bequest', 2nd edn (rev), British Museum, London, 1927, no.236
Hugh Tait, 'Catalogue of the Waddesdon Bequest in the British Museum. 1., The Jewels', British Museum, London, 1986, pp.51-56, figs.36-37
Dora Thornton, 'A Rothschild Renaissance: Treasures from the Waddesdon Bequest', British Museum, London, 2015, pp.162-167.Image: Group photograph depicts from left to right. the registration number: WB.236, WB.235, and WB.238.

References
Read 1902: Read, Charles Hercules, The Waddesdon Bequest. Catalogue of the Works of Art Bequeathed to the British Museum by Baron Ferdinand Rothschild, M.P., 1898, London, BMP, 1902
Dalton 1927: Dalton, Ormonde Maddock, The Waddesdon Bequest : jewels, plate, and other works of art bequeathed by Baron Ferdinand Rothschild., London, BMP, 1927