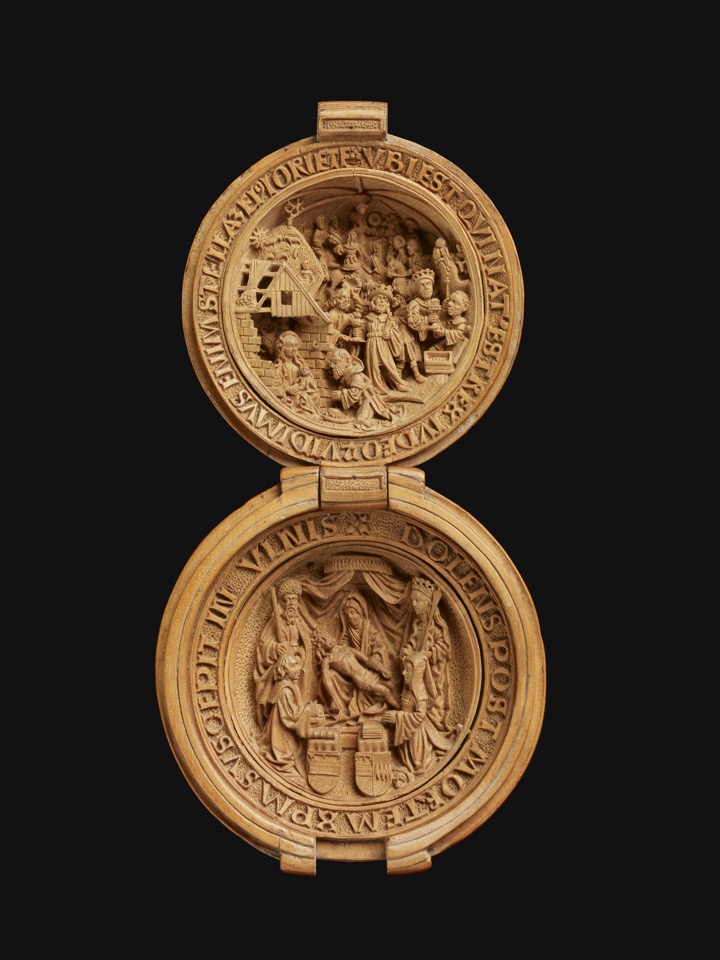 The prayer nut opens in the hand to reveal the Adoration of the Magi in the upper half. In the lower half is the Pietà with St James the Greater and St Ursula, the name saints of the patrons Jacques de Borsele and his wife Ursula de Foreest. The patrons are included in the scene, kneeling as witnesses. They are identified by their coats of arms on the shields in the foreground.
Curator's Description
Rosary bead; boxwood; carved; opening in two halves; upper half with Adoration of the Magi; lower half with Pietà with St James the Greater and St Ursula; figures of male and female donors kneeling at either side; on table on which they kneel are two paired shields of arms; relief floral scrolls on outside; inscribed.
This object was collected by Anselm von Rothschild and bequeathed to the British Museum by Ferdinand Anselm Rothschild.
How big is it?
4.9 cm wide, 4.3 cm high, 4.9 cm deep, and it weighs 23g
Detailed Curatorial Notes
Provenance: Baron Anselm von Rothschild, Vienna, by 1866 (cat no. 51).
Commentary: The paired arms are those of Jacques de Borsele, Lord of Gouda, and of his wife Ursula de Foreest, who are shown kneeling as donors. See Read 1902 for possible earlier identifications of the arms.
Comparisons are a prayer nut in the Rijksmuseum (inv. no. BK-1981-1) with an inscription on the outside identifying the owner as Evert Jans van Bleiswijk of Delft (1460-1531) and with two coats of arms for Evert and his wife, Erkenraad von Groenewegen. This example has its original metal case and velvet pouch. Also compare an example in the V&A (inv. no. 225-1866) with blank paired arms and silver fittings, see Paul Williamson, 'Netherlandish Sculpture 1450-1550', London, 2002, no. 48.
Bibliography
Charles Hercules Read, 'The Waddesdon Bequest: Catalogue of the Works of Art bequeathed to the British Museum by Baron Ferdinand Rothschild, M.P., 1898', London, 1902, no. 238, pl.XLIX
O.M. Dalton, 'The Waddesdon Bequest', 2nd edn (rev), British Museum, London, 1927, no.238
Richard Marks, 'Two Early 16th Century Boxwood Carvings Associated with the Glymes Family of Bergen op Zoom', in Oud Holland, Jaarg. 91, No. 3, 1977, p. 140
Paul Williamson, 'Netherlandish Sculpture 1450-1550', London, 2002, p.140
Evelin Wetter, 'Zwei spätmittelalterliche Betnüsse aus den südlichen Niederlanden', in Monographien der Abegg-Stiftung Bern, 15, Abegg-Stiftung, Riggisberg, 2011, p.58
John Lowden and John Cherry, 'Medieval ivories and works of art : the Thomson Collection at the Art Gallery of Ontario', Art Gallery of Ontario, Seattle, 2008, p.138, p.142
Dora Thornton, 'A Rothschild Renaissance: Treasures from the Waddesdon Bequest', British Museum, London, 2015, pp.168-171.Image: Group photograph depicts from left to right. the registration number: WB.236, WB.235, and WB.238.

References
Read 1902: Read, Charles Hercules, The Waddesdon Bequest. Catalogue of the Works of Art Bequeathed to the British Museum by Baron Ferdinand Rothschild, M.P., 1898, London, BMP, 1902
Dalton 1927: Dalton, Ormonde Maddock, The Waddesdon Bequest : jewels, plate, and other works of art bequeathed by Baron Ferdinand Rothschild., London, BMP, 1927