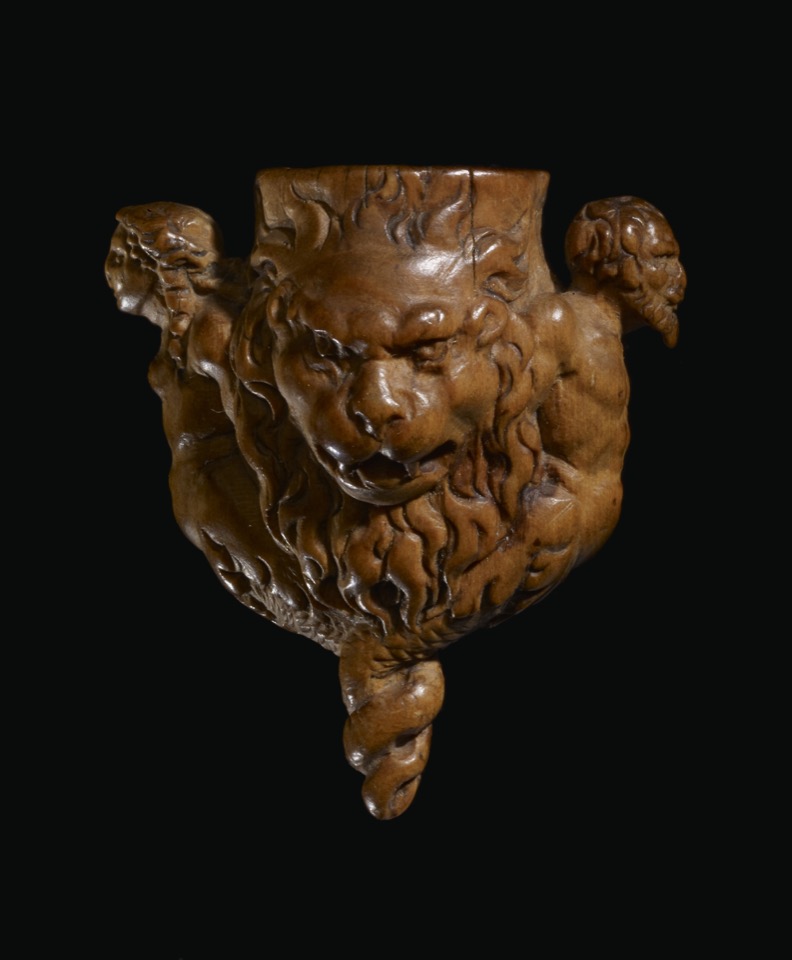 Curator's Description
Finial; boxwood; carved in form of two terminal figures with intertwined tails; lion mask and human mask between them.
This object was previously owned by David Falcke, collected by Anselm von Rothschild and bequeathed to the British Museum by Ferdinand Anselm Rothschild.
How big is it?
3 cm wide, 3.4 cm high, 1.9 cm deep, and it weighs 5g
Detailed Curatorial Notes
Possibly for the lower end of a dagger sheath.
Provenance : Baron Anselm von Rothschild, Vienna, between 1866 and 1872 (cat no. 499). Previously in the collection of David Falke, appears in Falke Sale, Christie and Manson, London, 19 April 1858, lot 829.
Bibliography
Charles Hercules Read, 'The Waddesdon Bequest: Catalogue of the Works of Art bequeathed to the British Museum by Baron Ferdinand Rothschild, M.P., 1898', London, 1902, no. 264
O.M. Dalton, 'The Waddesdon Bequest', 2nd edn (rev), British Museum, London, 1927, no.264.

References
Read 1902: Read, Charles Hercules, The Waddesdon Bequest. Catalogue of the Works of Art Bequeathed to the British Museum by Baron Ferdinand Rothschild, M.P., 1898, London, BMP, 1902
Dalton 1927: Dalton, Ormonde Maddock, The Waddesdon Bequest : jewels, plate, and other works of art bequeathed by Baron Ferdinand Rothschild., London, BMP, 1927