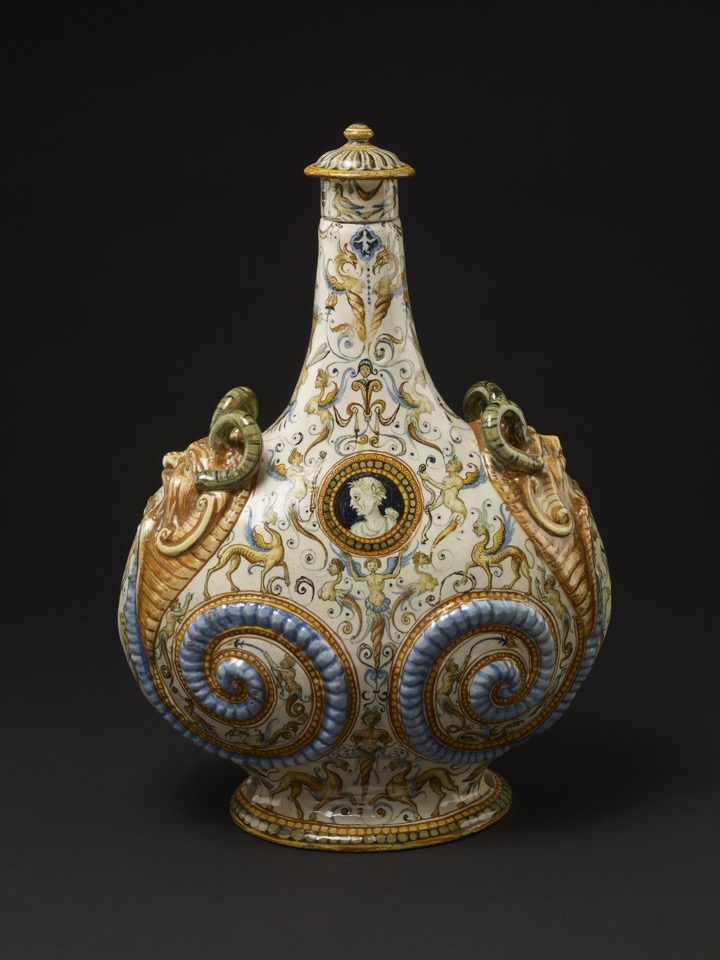 These are designed for display. The painted decoration is based on the Petites Grotesques engraved by Jacques Androuet Du Cerceau, which evoke the style of ancient Roman wall paintings. Baron Ferdinand displayed 23a and 23b on a door lintel in the New Smoking Room at Waddesdon Manor.
Curator's Description
Pilgrim flask on hollow foot into which are cut two rectangular slots, one at each end. The sides have two pairs of horns in which curl up to a pair of grotesque satyr masks, each with two horns which form the handles of the flask. The stopper screws into the neck and has a flange and a finial. Earthenware covered on the exterior with a presumed tin-glaze. Painted with grotesques and two roundels with a male cameo head on one side and a female on the other.
This object was previously owned by Maurice de Talleyrand-Périgord and Andrew Fountaine, and collected and bequeathed to the British Museum by Ferdinand Anselm Rothschild.
How big is it?
28.7 cm wide, 40.4 cm high, 16.5 cm deep, and it weighs 2.5 kg
Detailed Curatorial Notes
Provenance: Previously in the collection of Andrew Fountaine, probably before 1835, sold at Christie's London 16th June 1884, lot 223 (with WB.63.b ((lot 224)), £472.10s to Lowengard), subsequently entered the collection of the Duc de Dino and sold in Paris June 16th 1884, lot 38, between then and December 1898 entered the collection of Baron Ferdinand Rothschild.
Commentary: From Thornton and Wilson 2009: 'This is typical of the most elaborate type of Urbino display maiolica. It is difficult to attribute this type as between the workshop of the Fontana and that of Antonio Patanazzi. The grotesque decoration is reminiscent of the "Petites Grotesques" of Jacques Androuet Ducerceau, but is not directly based on them.'
Bibliography
Probably (with WB.63.b) the 'pair painted with grotesques', listed as nos 1 and 2 of the 'Bottles some finely shaped' in the 1835 Fountaine Inventory
'Fountaine Family Book' v, no. 39
'Catalogue of the Celebrated Fountaine Collection...Removed from Narford Hall, Norfolk', Christie's, London, June 16 1884, lots 223 & 224
Duc de Dino sale 'Catalogue de la précieuse collection de Faïences Italiennes... ', Paris, 8 May 1894, lot 38
Charles Hercules Read, 'The Waddesdon Bequest: Catalogue of the Works of Art bequeathed to the British Museum by Baron Ferdinand Rothschild, M.P., 1898', London, 1902, no.63
O.M. Dalton, 'The Waddesdon Bequest', 2nd edn (rev), British Museum, London, 1927, no.63
Dora Thornton and Timothy Wilson with contributions by Michael Hughes and Jeremy Warren, 'Italian Renaissance ceramics : a catalogue of the British Museum collection', British Museum, London, 2009, no.237 & fig.
Dora Thornton, 'A Rothschild Renaissance: Treasures from the Waddesdon Bequest', British Museum, London, 2015, pp.154-155.

References
Read 1902: Read, Charles Hercules, The Waddesdon Bequest. Catalogue of the Works of Art Bequeathed to the British Museum by Baron Ferdinand Rothschild, M.P., 1898, London, BMP, 1902
Dalton 1927: Dalton, Ormonde Maddock, The Waddesdon Bequest : jewels, plate, and other works of art bequeathed by Baron Ferdinand Rothschild., London, BMP, 1927
Thornton & Wilson 2009: Thornton, Dora; Wilson, Timothy, Italian Renaissance Ceramics: a catalogue of the British Museum collection, London, BMP, 2009