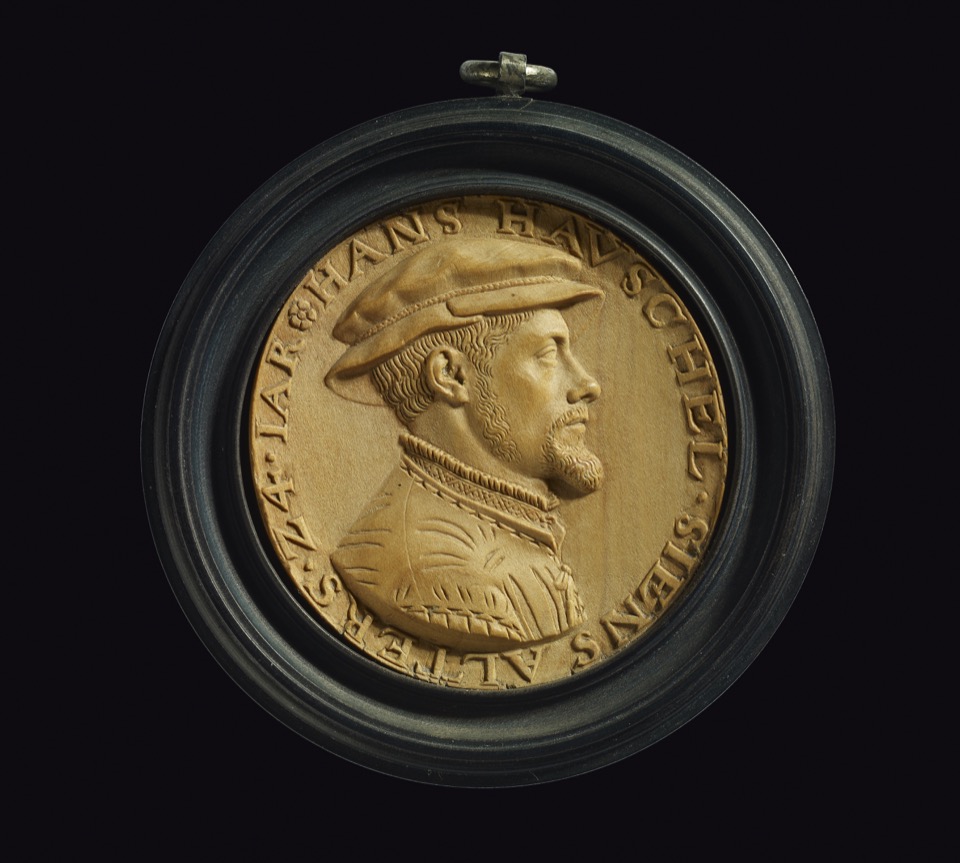 Like 5 this is a model of a medal to be cast in bronze or precious metal. Pieces cast from it have survived.
Curator's Description
Circular medallion portrait bust (template for medal) in boxwood of Hans Hauschel; in profile to right; short hair, pointed beard; wears soft cap and slashed doublet; inscribed.
This object was collected by Anselm von Rothschild and bequeathed to the British Museum by Ferdinand Anselm Rothschild.
How big is it?
5.6 cm wide, 6.5 cm high, 0.8 cm deep, and it weighs 12g
Detailed Curatorial Notes
Provenance: Baron Anselm von Rothschild, Vienna, by 1866 (cat. no. 57).
Commentary: Habich states that the atrribution to Friedrich Hagenauer is on the strength of the inscription on the back of a cast for the same medal (possibly in Munich?) whereas the inscription on the front of the BM example is in a style not usually associated with Hagenauer. Another example of the medal produced from this model is in the Samuel H. Kress collection of Renaissance medals in the National Gallery of Art in Washington D.C.(inv.no. A1336-596A). There is a further medal of Hans Hauschel in the Horace White Collection of Gems and Medallions in the Museum of Art and History, University of Michigan, but it has not yet been possible to establish whether it is the same one.
Bibliography
Charles Hercules Read, 'The Waddesdon Bequest: Catalogue of the Works of Art bequeathed to the British Museum by Baron Ferdinand Rothschild, M.P., 1898', London, 1902, no. 243
O.M. Dalton, 'The Waddesdon Bequest', 2nd edn (rev), British Museum, London, 1927, no.243
Georg Habich, Die Deutschen Schaumünzen des XVI Jahrhunderts, F Bruckmann, 1929-1935, Vol. I, I no. 665.

References
Read 1902: Read, Charles Hercules, The Waddesdon Bequest. Catalogue of the Works of Art Bequeathed to the British Museum by Baron Ferdinand Rothschild, M.P., 1898, London, BMP, 1902
Dalton 1927: Dalton, Ormonde Maddock, The Waddesdon Bequest : jewels, plate, and other works of art bequeathed by Baron Ferdinand Rothschild., London, BMP, 1927
Habich: Habich