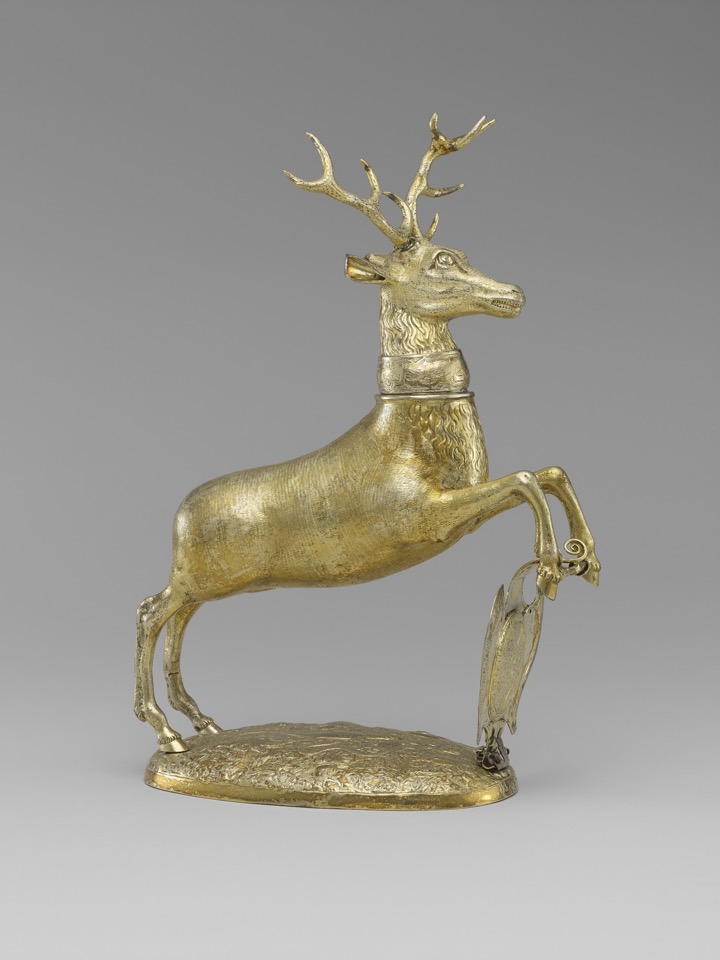 Curator's Description
Standing cup; silver-gilt; chased; form of running stag resting fore feet on shield with coat of arms: unicorn rampant impaling chevron charged with three fleur-de-lis; head removable with ornamental collar at junction; oval base embossed with monsters and snakes; inscribed.
This object was collected and bequeathed to the British Museum by Ferdinand Anselm Rothschild.
How big is it?
19.3 cm wide, 27.5 cm high, 9.4 cm deep, and it weighs 619g
Detailed Curatorial Notes
Text from Tait 1988:-
Origin: Vienna; late 16th century; mark of unidentified goldsmith known as the 'hunting-horn master'.
Marks: The pair of marks (the town and the maker's mark) occur once: on the flange of the neck of the body - not on the detachable head.
(i) Assay mark for Vienna (R3 7851).
(ii) Hunting-horn and leaves symbol within a shield; the punch-mark of an unidentified maker (R3 7922).
Provenance: None is recorded.
Commentary: The very clear indications of a series of alterations over the centuries to the armorial cartouche so diminishes the documentary value of the encircling inscription and the quite separate date of 1580 that they are both best disregarded until some external corroborative evidence is firmly established. However, the initials M.R. and the date 1619 (on the front of the foot-rim) have an authentic and unaltered look, and most probably they represent a secondary stage in the history of the object -perhaps when it changed owners for the first time.
In Read 1902 this piece was dated 'about 1580', an attribution that was repeated by subsequent writers, though in Hayward 1976 it was stated to have been made in Vienna 'before 1580' - presumably on the evidence of the engraved inscription and date of 1580, which were, once again, misleadingly quoted and transcribed as if they were one continuous piece of engraving. The difficult task of establishing a precise date for this leaping stag cup is aggravated by the absence of any other works by this maker; none was recorded by Rosenberg in 1928, nor have any others been subsequently published. Furthermore, very few pieces of silver plate from sixteenth-century Vienna workshops have survived, and so it is virtually impossible to establish a coherent story of the goldsmiths' craft in that city.
The destruction of so much Renaissance silver produced by members of the Vienna goldsmiths' guild has been blamed on the war against Napoleon, when all plate had to be surrendered for melting unless a heavy tax was paid to secure its exemption. Few could afford to keep their gold and silver plate under such punitive regulations; one of the most spectacular groups to survive is in the treasury of the monastery of Klosterneuburg, a few miles from Vienna, and it gives a dramatic idea of the scale of these losses. A richly decorated set of ecclesiastical plate (chalice, cruets, dish and altar cross), dated 1625 and bearing the signature of Hans Melchior Sibmacher, 'K. K. May. Hofgoldarbeiter in Wien' (Imperial Court goldsmith in Vienna), is unfortunately now the only known work of this master craftsman (see K. Drexler, 'Goldschmiedearbeiten in Klosterneuburg', 1897; Heinrich Klapsia, 'Katalog der Kunstsammlungen im Stift Klosterneuburg, V, Goldschmiedearbeiten', Vienna, 1943, pp. 27-8, no. 24, figs 23-4; Floridus Röhrig, 'Stift Klosterneuburg und seine Kunstschätze', Vienna, 1984, pl. 62).
Undoubtedly the greatest of all the Renaissance goldsmiths from Vienna was Wenzel Jamnitzer (see WB.95) but, although he was born in Vienna in 1508 and was already a fully qualified master-goldsmith when, at the age of twenty-six, he became a citizen of Nuremberg in 1534, he nevertheless is always considered a Nuremberg master and his formative Vienna background is too often overlooked. He was not the only goldsmith from Vienna to settle in Nuremberg or Augsburg, for the Emperor Charles V (reigned 1519-55) and his Court were frequently at Augsburg and, with Hapsburg Court patronage, the workshops of both these cities prospered. Although two Spanish goldsmiths, Juan Maczuelos and Juan Pery Pockh, were at first favoured by the Emperor Maximilian II (reigned 1564-78) and his Empress, Maria, nevertheless there were evidently many gifted local goldsmiths trained in Vienna, from amongst whom the Emperor chose Marx Khornblum and appointed him his own 'Kammergoldschmied'. Marx Khornblum continued to supply the Imperial Court until 1591, and proof of the standards of excellence achieved by this Vienna goldsmith can be seen, for example, on the silver-gilt mounts and cover of a potstone tankard in the British Museum (C. H. Read and A. Tonnochy, 'Catalogue of Silver Plate in the Franks Bequest in the British Museum', London, 1928, p. 18, no. 48, pls XX-XXI). With workshops of this quality Vienna goldsmiths could indeed hold their own, and only the tragic accident of history has left a vast lacuna that now defeats the historian of Renaissance goldsmiths' work in Vienna.
For that reason, the survival of this leaping stag cup is particularly important and, although the modelling of the
stag itself is perhaps no better than those that have survived from contemporary workshops in Augsburg, the detailed embossing of the base is exceptionally interesting. The inclusion of an unbelievably huge lizard (?), the lively character of the winged dragon confronting the snake, together with the imaginative disposition of a multitude of animals and reptiles busily inhabiting a terrain filled with diverse plants and amid rocky pools, indicate an early date, perhaps in the third quarter of the sixteenth century, when the accounts of exotic voyages of discovery to the New World and the Far East still continued to hold the courts of Europe spellbound.
It should be compared with the famous silver-gilt Hermersberg Willkomm of 1581, which was made in Augsburg by Georg Hellthaler for Graf Wolfgang von Hohenlohe and has survived in private hands complete with two preliminary drawings (see R. Sänger, Gold- und silberschmiedekunst , Bergkristall- und Steinschneidearbeiten, 'Die Renaissance im Deutschen Südwesten', exh. cat., Heidelberg Castle, Badisches Landesmuseum, Karlsruhe, 1986, pp. 630-1, nos L 27-8, with three illus. and bibl. references). In the incomplete drawing of 1580-1, the tripping stag stands on an oval base embossed at one end with a very large lizard (?) in the centre, a snake, and a snail amidst plants and stones. The treatment is strikingly similar to the base of the Vienna leaping stag. The Hermersberg Willkomm was restored and altered in 1840, but when studied in conjunction with the drawings it provides valuable dated evidence. A similar broad collar around the neck and meticulous treatment of the long hair above and below are also to be seen, whilst the modelling of the head is remarkably close, though not identical.
Perhaps the most comparable oval base of any documented stag cup is the silver-gilt example by Elias Zorer of Augsburg (master c. 1586, died 1625), which has been preserved in the Munich Residenz (see H. Brunner, 'Schatzkammer der Residenz München', 3rd edn of the Catalogue, Munich, 1970, no. 584; also H. Seling, 'Die Kunst de Augsburger Goldschmiede 1529-1868' 3 vols., Munich, 1980, p. 249, pl. 149, where it is stated to be "um 1586-1590" although the records of the Wittelsbachs offer no details about its history). The Munich stag is tripping, with the left foreleg raised, and the total height is 33 cm, while the base is 23 x 12 cm. The simple, gently domed base is formed in a very similar manner with an almost identical plain border extending around the foot-rim and a single engraved line separating it from the overall embossed decoration of plants and rocks, amidst which are snakes and small rodents. Elias Zorer's ornamentation of the base is different in style from the Vienna master's solution and probably reflects the later date of the Augsburg piece - by perhaps some fifteen years or more. For a further discussion of Elias Zorer's work, see WB.132.
The surviving Augsburg silver-gilt cups in the form of stags are mostly modelled with one foreleg raised so that there is only a slight suggestion of movement, while the body remains almost horizontal. An anonymous Augsburg leaping stag cup recently acquired by the Städtische Kunstsammlungen in Augsburg has no provenance and bears no resemblance to the Vienna cup in the Waddesdon Bequest (for illustration and discussion see 'Welt im Umbruch' 1980, p. 417, no. 794). It has no support for the stag at the front. The leaping stag in the Waddesdon Bequest can, however, be compared with the documented but later silver-gilt cup in the form of a leaping stag with coral antlers preserved in the Grünes Gewölbe, Dresden (see J.L. Sponsel, 'Das Grüne Gewölbe zu Dresden', vol. II, Leipzig, 1928, p. 166, pl. 8; also 'The Splendor of Dresden, Five Centuries of Art Collecting', Metropolitan Museum of Art, New York, 1978, p. 156, no. 266, with illus.). The Dresden example is by the Nuremberg goldsmith Andreas Rosa (master 1599), and depicts the stag in a more vertical pose with a tall tree-stump acting as a support beneath its chest. There is no room on the small, high base for a large heraldic shield, and clearly none was intended. Rosa's solution to the problem of supporting a leaping stag was a generally acceptable artistic formula, and therefore might have been adopted by the anonymous Vienna goldsmith who made the Waddesdon leaping stag some thirty or forty years earlier. However, there are no obvious scars indicative of the removal of a tree-trunk from the embossed surface of the oval base, and consequently it seems more likely that, although the present armorial cartouche is not in its original state, there would have been a similar heraldic shield supporting the leaping stag. This cup was, therefore, probably designed as a Willkomm of some noble family - unlike the silver stag of King Christian IV of Denmark (reigned 1588-1648). In this beautiful sculpture the tree-trunk as a disguised support for the more vertically leaping stag was again most successfully used by the gifted Hamburg goldsmith Johan Jans (died 1658). His stag with gilded antlers was made before 1644, when it became part of the Danish royal collection of silver that the Tsar of Russia acquired in 1644; it has been preserved in Moscow in the Kremlin (see J. I. Smirnowa and B. Heitmann, 'Gold und Silber aus dem Moskauer Kreml: Meisterwerke Hamburger Goldschmiedekunst' Museum für Kunst und Gewerbe, Hamburg, 1986, p. 112, no. 19, col. pl. on p. 11; M. Bencard and G. A. Markowa, 'Christian IV's Royal Plate', Rosenberg, 1988, no. 26). It was, however, conceived as a courtly, small-scale work of sculpture in silver - not as a drinking-cup or Willkomm of the sixteenth-century type. In contrast, the unidentified Vienna goldsmith who made the example in the Waddesdon Bequest was working in that older tradition and, within its strict limitations, he has managed to create a sensitively observed and impressively noble portrayal of the stag. Its survival is truly remarkable when so much Renaissance silver from Vienna has been melted down, including almost the entire class of Willkomm cups.
Bibliography
Charles Hercules Read, 'The Waddesdon Bequest: Catalogue of the Works of Art bequeathed to the British Museum by Baron Ferdinand Rothschild, M.P., 1898', London, 1902, no. 138, pl. XXXIII
Marc Rosenberg, 'Der Goldschmiede Merkzeichen'. 3rd edn, Frankfurt, vol. IV, 1928, p. 438, R3 7922
O.M. Dalton, 'The Waddesdon Bequest', 2nd edn (rev), British Museum, London, 1927, no. 138
J. F. Hayward, 'Virtuoso Goldsmiths and the Triumphs of Mannerism 1540-1620', Sotheby Parke Bernet Publications, London, 1976, p. 393, pl. 568
Hugh Tait, 'Catalogue of the Waddesdon Bequest in the British Museum, II : The Silver Plate', British Museum, London, 1988, no. 18, figs. 121-127.

References
Read 1902: Read, Charles Hercules, The Waddesdon Bequest. Catalogue of the Works of Art Bequeathed to the British Museum by Baron Ferdinand Rothschild, M.P., 1898, London, BMP, 1902
Dalton 1927: Dalton, Ormonde Maddock, The Waddesdon Bequest : jewels, plate, and other works of art bequeathed by Baron Ferdinand Rothschild., London, BMP, 1927
Tait 1988: Tait, Hugh, Catalogue of the Waddesdon Bequest in the British Museum; II The Silver Plate, London, BMP, 1988