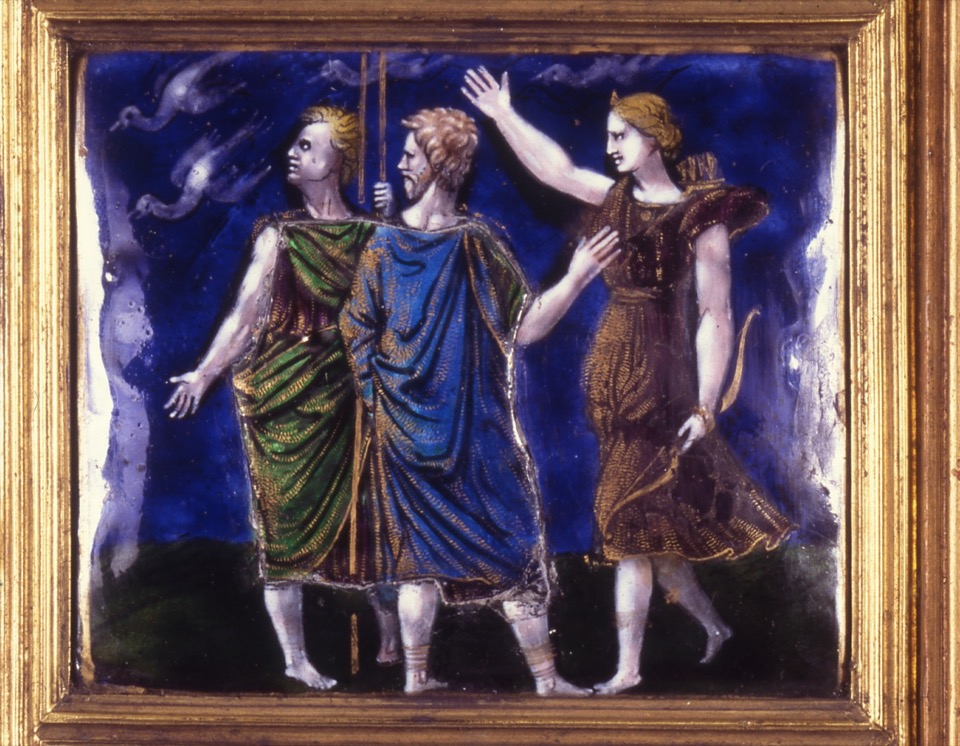 Neptune calms the winds. After a lost painting by Raphael which was copied in a famous print by Marcantonio Raimondi. The border scenes also copy the print. The panels with inscriptions and the frame are later additions, possibly put together by the dealer Frédéric Spitzer. Five panels are stamped on the reverse with a Pénicaud workshop stamp.
Curator's Description
Painted Limoges enamel on copper, a large composite panel comprising fifteen plaques, the five explanatory inscriptions are probably modern; Aeneid scenes are copied from Marcantonio Raimondi's engraving of the same subject known as the Quos Ego; central panel painted after a lost Raphael painting with Neptune in grisaille with flesh tints, blue with gilding, Neptune in chariot stilling winds; above, circle of Zodiac containing Jupiter, Venus, Mercury; on left Juno and Aeolus; right, Venus and Cupid; smaller panels: Aeneas and troops; Dido escorting through Carthage; Aeneas and Achates meeting Venus; Dido receiving Aeneas; below: two larger panels: Aeneas and Achates, Dido and Aeneas; inscribed; frame of modern enamels; grotesques in gold on black.
This object was previously owned by Frédéric Spitzer, and collected and bequeathed to the British Museum by Ferdinand Anselm Rothschild.
How big is it?
60 cm wide, 67 cm high, 3 cm deep, and it weighs 5.4 kg
Detailed Curatorial Notes
Provenance: Provenance: Purchased by Baron Ferdinand de Rothschild at the sale of the collection of Frédéric Spitzer in Paris in 1893.
Commentary: Text from Tait 1981: 'One of the most spectacular examples [of Limoges enamels] in the [Waddesdon] Bequest is the large composite panel of scenes from the Aeneid, in which ten separate plaques have been copied directly from an engraving by Marcantonio Raimondi entitled 'Quos Ego' (a reference to the interrupted threat made by Neptune to the Winds, Book I, verse 135). The engraving was probably designed to be used as a frontispiece to an Italian edition of Virgil, and the central composition of Neptune in his chariot stilling the winds is thought to derive from a lost painting by Raphael. Each of the ten plaques is stamped on the back with the punch-mark used by the Pénicaud workshop under Jean II Pénicaud and probably dates from about 1540-50. The extremely subtle nuances of the painting of the Neptune panel (in the centre) are undoubtedly indicative of the hand of the master himself, but the other nine polychrome panels are possibly the work of assistants.'
The frame and the five inscribed plaques are probably later, perhaps added by Spitzer, and are taken from the Marcantonio print.
Bibliography
'Catalogue . . . de la . . . Collection Spitzer', Paris, 17 April - 16 June 1893, lot 468
Charles Hercules Read, 'The Waddesdon Bequest: Catalogue of the Works of Art bequeathed to the British Museum by Baron Ferdinand Rothschild, M.P., 1898', London, 1902, no. 21
O.M. Dalton, 'The Waddesdon Bequest', 2nd edn (rev), British Museum, London, 1927, no.21
Philippe Verdier, 'Catalogue of the Painted Enamels of the Renaissance', Walters Art Gallery, Baltimore, 1967, p.122
H. Tait, 'The Waddesdon Bequest', BM London, 1981, pp. 43-44, figs. 23-24
Susan L. Caroselli, 'The painted enamels of Limoges : a catalogue of the collection of the Los Angeles County Museum of Art', Los Angeles County Museum of Art, California, 1993, p.172
Sophie Baratte, 'Les émaux peints de Limoges', Réunion des musées nationaux, Paris, 2000, p.399.

References
Read 1902: Read, Charles Hercules, The Waddesdon Bequest. Catalogue of the Works of Art Bequeathed to the British Museum by Baron Ferdinand Rothschild, M.P., 1898, London, BMP, 1902
Dalton 1927: Dalton, Ormonde Maddock, The Waddesdon Bequest : jewels, plate, and other works of art bequeathed by Baron Ferdinand Rothschild., London, BMP, 1927