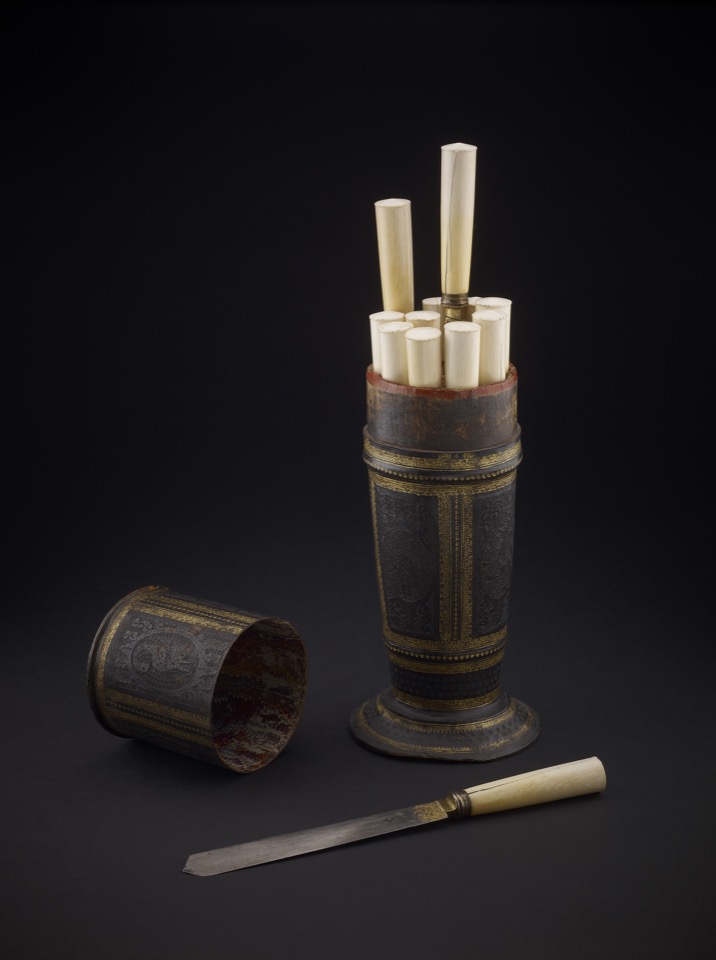 Curator's Description
Leather case of twelve knives with ivory handles; blades widen towards ends; all with coat of arms etched on gilt ground: tree growing from concentric circles; handles plain and circular; rounded case with gilt stamped borders forming four panels in sides, containing swan and rampant lion alternately; cap cover of same designs, same coat of arms as blades engraved on top.
This object was collected and bequeathed to the British Museum by Ferdinand Anselm Rothschild.
How big is it?
11.6 cm wide, 31.8 cm high, 0.2 cm deep, and it weighs 1.9 kg
Detailed Curatorial Notes
Provenance: None is recorded.
Bibliography
Charles Hercules Read, 'The Waddesdon Bequest: Catalogue of the Works of Art bequeathed to the British Museum by Baron Ferdinand Rothschild, M.P., 1898', London, 1902, no. 208
O.M. Dalton, 'The Waddesdon Bequest', 2nd edn (rev), British Museum, London, 1927, no.208.

References
Read 1902: Read, Charles Hercules, The Waddesdon Bequest. Catalogue of the Works of Art Bequeathed to the British Museum by Baron Ferdinand Rothschild, M.P., 1898, London, BMP, 1902
Dalton 1927: Dalton, Ormonde Maddock, The Waddesdon Bequest : jewels, plate, and other works of art bequeathed by Baron Ferdinand Rothschild., London, BMP, 1927