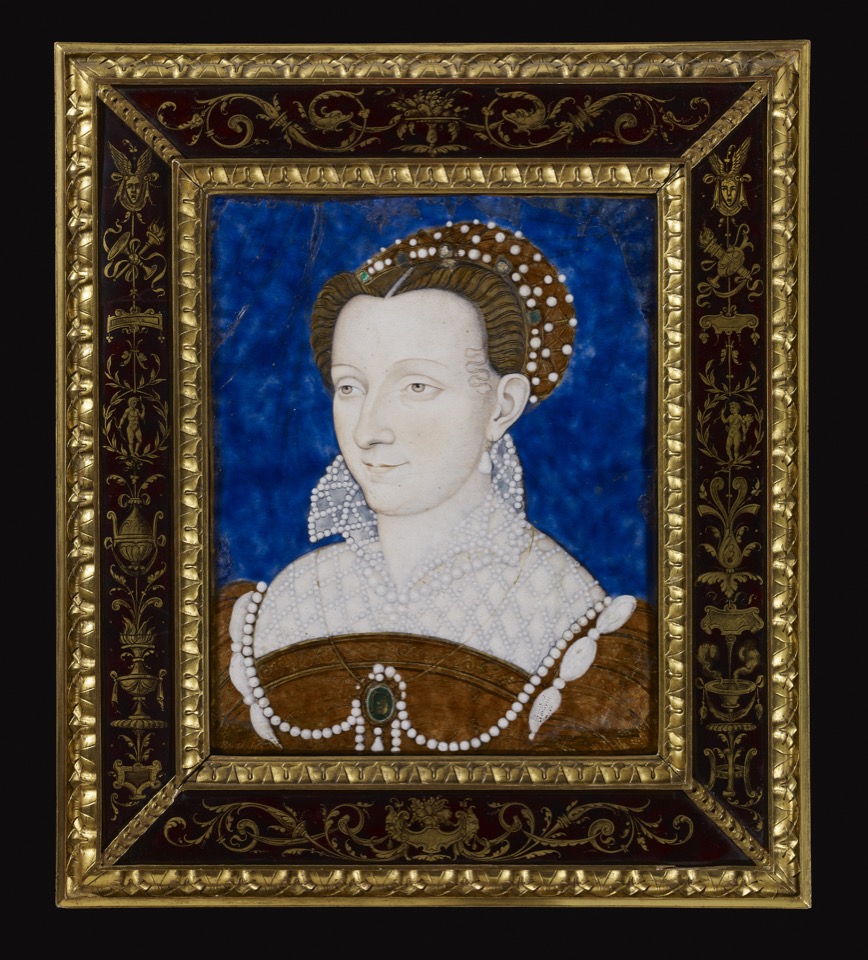 Anne (1531–1607) was powerful in the Catholic League, in the French Wars of Religion. She helped to build acceptance for Henri IV as king of France, following his conversion to Catholicism in 1589. The panel is signed on the right sleeve. For later collectors, like the Rothschilds, Limosin's portraits evoked the drama, intrigue and romance of the French Renaissance court.
Curator's Description
Painted Limoges enamel plaque; copper; set in a 19th century frame of gilt wood and red enamel with gilded decoration; portrait bust of unknown woman, probably Anne d'Este, mother of Catherine de Lorraine, Duchess of Montmorency; painted in semi-opaque enamels on white preparation translucent enamels over coloured foils and grisaille, with flesh tones in stippling and enlevage; gilding; counter enamel transparent and milky chalky flux; signed; inscribed.
This object was previously owned by Frédéric Spitzer, Louis Fidel Debruge-Dumenil and P Soltykoff, and collected and bequeathed to the British Museum by Ferdinand Anselm Rothschild.
How big is it?
41 cm wide, 47 cm high, 2.5 cm deep, and it weighs 2.2 kg
Detailed Curatorial Notes
Provenance: The provenance information given in Read 1902 and Dalton 1927 (that the object was once in the collections of Debruge and Soltykoff) may be incorrect. WB.24 was
purchased by Baron Ferdinand de Rothschild at the sale of the collection of Frédéric Spitzer in Paris in 1893 (lot 487), but it is unclear whether this is the same plaque that was once in the sales of Debruge-Dumenil (1850), Solykoff (1861) and Seillière (1890) or whether that provenance actually belongs to the plaque now in Chantilly. Further research is required.
Commentary: The sitter was previously thought to be Catherine of Lorraine, but Leblond and Deprouw 2010 (see bibliography) compare the portrait with a further plaque (unsigned) of the same sitter in the Musée Condé, Chantilly (inv. no. OA 124), and a linked drawing from the school of François Clouet in the Ashmolean Museum (inv. no. WA 1863.6.25) entitled 'Madame de Guise'. Anne d'Este (1531-1607), a French noblewoman, is the more likely subject. Anne was daughter of Renee de France and Ercole d'Este, and wife of Francois duc de Guise (assassinated in 1563) and later of Jacques de Savoie, Duke of Nemours. The drawing in the Ashmolean is the type of workshop copy which enamellers would have worked from to produce portrait plaques such as these, and was also used by Leonard Limosin for a Medea plaque in the Musée Antoine Vivenel in Compiegne (inv. no. L.2984), perhaps unintentionally.
Bibliography
'Catalogue . . . de la . . . Collection Spitzer', Paris, 17 April - 16 June 1893, lot 487
Charles Hercules Read, 'The Waddesdon Bequest: Catalogue of the Works of Art bequeathed to the British Museum by Baron Ferdinand Rothschild, M.P., 1898', London, 1902, no. 24, pl. VIII
O.M. Dalton, 'The Waddesdon Bequest', 2nd edn (rev), British Museum, London, 1927, no.24, pl.VI
H. Tait, 'The Waddesdon Bequest', BM London, 1981, pp.47-49, fig. 27
Susan L. Caroselli, 'The painted enamels of Limoges: a catalogue of the collection of the Los Angeles County Museum of Art', Los Angeles County Museum of Art, California, 1993, p. 207
Thierry Crépin-Leblond, 'Une suite de portraits mythologiques émaillés par Léonard Limosin', in 'Revue de l'Art', vol.116, Paris, 1997, p.20
Thierry Crépin-Leblond, 'Les Emaux Peints du Musée Condé a Chantilly', in 'Le Musée Condé', 56, October 1999, p.3, fig.4
Alexandra Zvereva, 'Portraits dessinés de la cour des Valois : Les Clouet de Catherine de Médicis', Arthena, Paris, 2001, no. 388
Theirry Crépin-Leblond & Stéphanie Deprouw, 'De la lettre à l'émail : Léonard Limosin interprète Ovide [réalisé en accompagnement de l'exposition organisée par le musée national de la renaissance, château d'Ecouen, du 17 mars au 5 juillet 2010]', Réunion des musées nationaux, Paris & Musée national de la renaissance, Ecouen, 2010, pp.35-36
Alexandra Zvereva, 'Portraits dessinés de la cour des Valois, Les Clouet de Catherine de Médicis', Arthena, Paris, cat. no. 388
Dora Thornton, 'A Rothschild Renaissance: Treasures from the Waddesdon Bequest', British Museum, London, 2015, pp.116-119.

References
Read 1902: Read, Charles Hercules, The Waddesdon Bequest. Catalogue of the Works of Art Bequeathed to the British Museum by Baron Ferdinand Rothschild, M.P., 1898, London, BMP, 1902
Dalton 1927: Dalton, Ormonde Maddock, The Waddesdon Bequest : jewels, plate, and other works of art bequeathed by Baron Ferdinand Rothschild., London, BMP, 1927
Scrase handlist: Scrase handlist