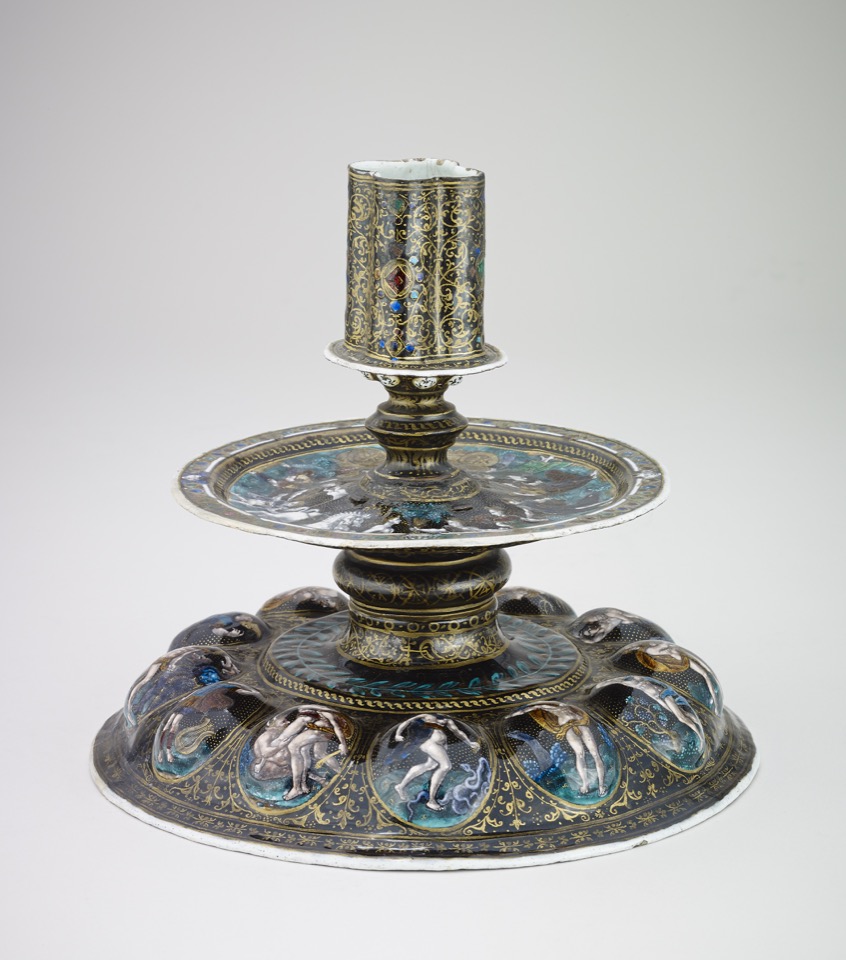 The bosses on the feet are painted with the Labours of Hercules, gods and goddesses, horsemen and musicians. The richness of the decoration, with coloured metal foils and gilding, gives a jewelled effect, making these attractive collectors' pieces.
Curator's Description
Painted Limoges enamel candlestick; copper; holder, large pan and base decorated with twelve oval bosses; the pan painted with triumphal procession ?, two horsemen linked by the group of four figures and another of three figures, including a woman with a triangle. On the bosses a standing figure, possibly Hercules, Jupiter with his thunder-bolt and eagle, Hercules with the Nemean Lion, Venus and Cupid, Hercules and Hydra, Juno and the peacock, Hercules with Antaeus, Minerva, Hercules with the pillars, Mars with his dog, Hercules and Cacus, Diana with crescent moon and dog. Painted in semi-opaque enamels over a white preparation, translucent enamels over coloured foils and grisaille of grey-white with pink flesh tones; details in enlevage and gilding; all on black ground, powdered minutely with gilding.
This object was previously owned by Samuel Addington and P Soltykoff, collected by Anselm von Rothschild and bequeathed to the British Museum by Ferdinand Anselm Rothschild.
How big is it?
20.9 cm wide, 18.2 cm high, 20.9 cm deep, and it weighs 500g
Detailed Curatorial Notes
Provenance: Probably from Soltykoff Collection sold in Paris, 8th April 1861 lot 514 for 29,900 francs, and by 1862 owned by Samuel Addington who exhibited them that year at the South Kensington Museum. Subsequently acquired by Baron Anselm von Rothschild, Vienna, between 1866 and 1872 (cat no. 479), by inheritance to his son Baron Ferdinand Rothschild (d. 1898).
Commentary: The form of the candlesticks is unusual and the closest comparison is a pair of candlesticks also attributed to Jean de Court, formerly in the collection of Mr and Mrs Germain Seligman, now in the National Gallery of Canada (inv. no. 23409-1-2). These have a similar bulbous base and also the same shaped top as the British Museum examples, but with an urn-shaped element forming the bottom part of the stem. Other partial comparisons are a pair of candlesticks depicting the Labours of Hercules in the Louvre (MR 2504 & 2505, unattributed), a similar pair to these in the Metropolitan Museum (inv. no. 39.66.1, unattributed), and a pair in the Rijksmuseum (inv. no. BK-17219-B, circle of Jean de Court). Two examples exist in the Walters Art Gallery with a similar top to the British Museum pair, but on a much longer and straighter stem, and without the bulbous base (inv. nos. 44.51 & 44.52 attributed to Jacques Laudin I, and 44.354 & 44.355 attributed to Joseph Limosin).
Bibliography
'Catalogue des Objets d'Art et de Haute Curoisite...du Prince Soltykoff', Paris, 1861, lot no. 514
J. C Robinson (ed.), 'Catalogue of the Special Exhibition of Works of Art of the Mediaeval, Renaissance, and More Recent Periods, on loan at the South Kensington Museum', London, June 1862, nos. 1846 & 1847
Charles Hercules Read, 'The Waddesdon Bequest: Catalogue of the Works of Art bequeathed to the British Museum by Baron Ferdinand Rothschild, M.P., 1898', London, 1902, no. 32
O.M. Dalton, 'The Waddesdon Bequest', 2nd edn (rev), British Museum, London, 1927, no.32
Sophie Baratte, 'Les émaux peints de Limoges', Réunion des Musées Nationaux, Paris, 2000, p.358.

References
Read 1902: Read, Charles Hercules, The Waddesdon Bequest. Catalogue of the Works of Art Bequeathed to the British Museum by Baron Ferdinand Rothschild, M.P., 1898, London, BMP, 1902
Dalton 1927: Dalton, Ormonde Maddock, The Waddesdon Bequest : jewels, plate, and other works of art bequeathed by Baron Ferdinand Rothschild., London, BMP, 1927
Scrase handlist: Scrase handlist