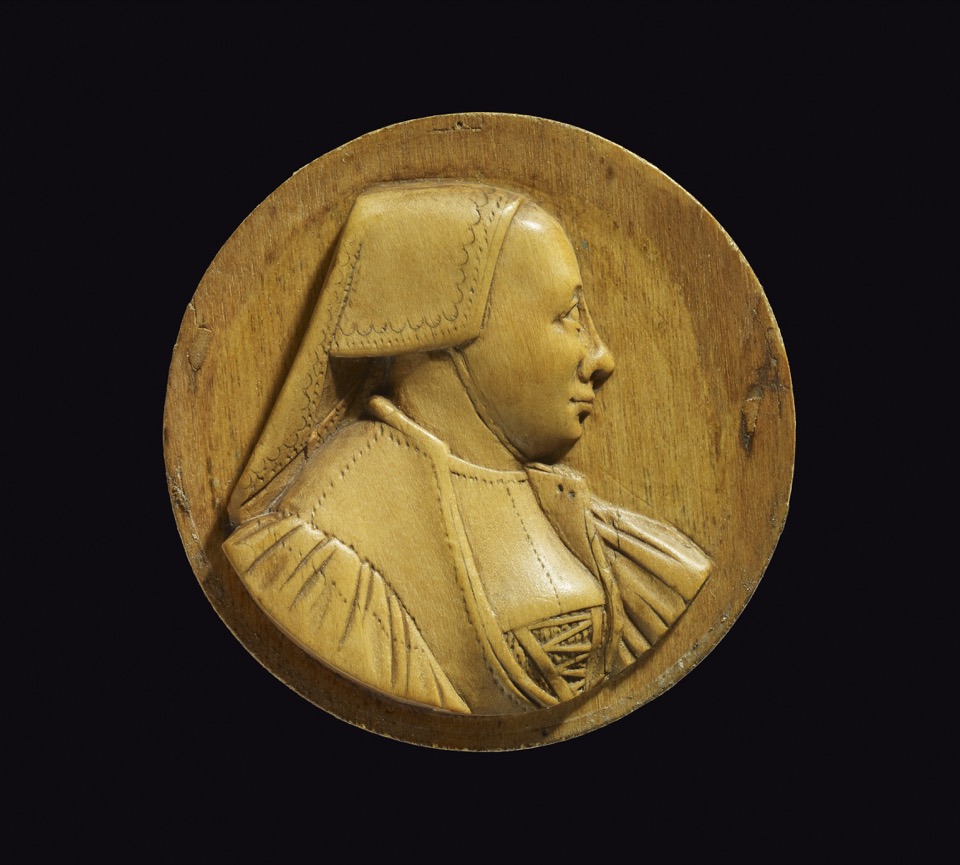 Curator's Description
Circular medallion; boxwood (possibly a gaming piece), elderly woman (possibly Anne of Bohemia and Hungary), in profile to right; wears folded linen cap, no hair visible, laced bodice and gathered sleeves.
This object was previously owned by Vienna Museum, collected by Anselm von Rothschild and bequeathed to the British Museum by Ferdinand Anselm Rothschild.
How big is it?
4.1 cm wide, 4.1 cm high, 0.6 cm deep, and it weighs 3g
Detailed Curatorial Notes
Provenance: Probably Baron Anselm von Rothschild, Vienna, by 1866 (probably cat no. 58 but catalogue description not conclusive). Appeared in the 1860 sale of the Vienna Museum, lot 1057, where it is incorrectly described as 'Mary, Queen of Hungary'. Read 1902 instead suggests that it may be Anne of Bohemia and Hungary (1503-1547), wife of the Emperor Ferdinand I.
Commentary: The back of this medallion is branded with the monogram 'DPC'. In Marjorie Trusted, 'German Renaissance Medals : A Catalogue of the Collection in the Victoria and Albert Museum' (London, 1990) cat. nos. 194-195 have the same monogram.
From Trusted p.124: 'Habich thought the present example [cat. no. 194] (like cat. no. 195) was one of a series resembling gamespieces, based on Renaissance medals, and all signed with a monogram made with a branding-iron. Their date is uncertain, although they are here tentatively assigned to c.1550-75. Two others (apart from those listed in Habich) are in the Bayerisches Nationalmuseum in Munich (inv. 31/149 and 31/150); these show Jacob Fugger (after a medal by Hans Schwarz) and Kaspar von Frundsberg (after a medal by Friedrich Hagenauer); these were originally in the Spitzer Collection.'
The V&A examples both have the remains of a wax seal on the reverse bearing the arms of the Kanstorffer family and the von Lau family, and it is likely that the V & A medallions were in the collection of one of these families. WB.245 has a stain / residue on the reverse which may have been caused by the removal of a similar wax seal, suggesting that it may have once been part of the same collection.
Bibliography
Charles Hercules Read, 'The Waddesdon Bequest: Catalogue of the Works of Art bequeathed to the British Museum by Baron Ferdinand Rothschild, M.P., 1898', London, 1902, no. 245
O.M. Dalton, 'The Waddesdon Bequest', 2nd edn (rev), British Museum, London, 1927, no.245.

References
Read 1902: Read, Charles Hercules, The Waddesdon Bequest. Catalogue of the Works of Art Bequeathed to the British Museum by Baron Ferdinand Rothschild, M.P., 1898, London, BMP, 1902
Dalton 1927: Dalton, Ormonde Maddock, The Waddesdon Bequest : jewels, plate, and other works of art bequeathed by Baron Ferdinand Rothschild., London, BMP, 1927